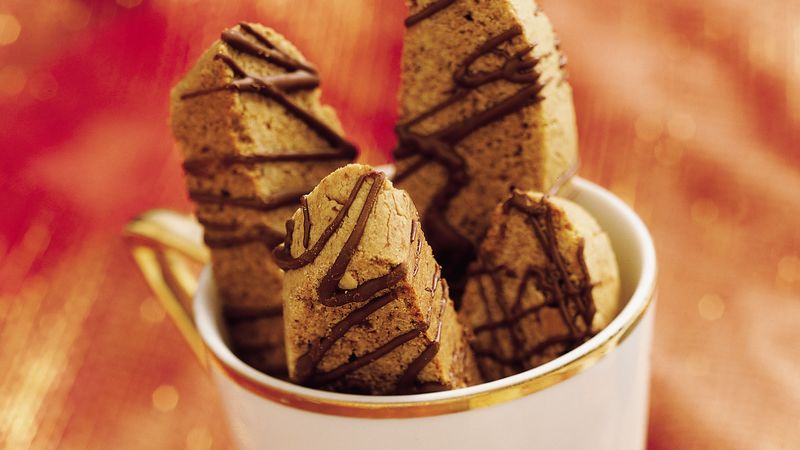 Ingredients:
2 Tbsp. instant espresso or coffee crystals
2 tsp. hot water
1 cup sugar
½ cup (1 stick) butter, softened
1 tsp. vanilla
2 eggs
3 cups all-purpose flour
½ oz. semisweet chocolate, grated (about ½ cup)
¼ cup slivered almonds, toasted and chopped
1 tsp. baking powder
½ tsp. salt
Directions
Heat oven to 350. Dissolve coffee crystals in hot water. Beat sugar, butter, vanilla, eggs, and coffee in large bowl. Stir in remaining ingredients.
On ungreased cookie sheet, shape half of dough at a time into a rectangle, 10 x 3 in., rounding edges slightly. Bake about 30 minutes or until center is firm to the touch. Cool on cookie sheet 15 minutes.
Cut crosswise into ½-inch slices. Place slices, cut sides down, on cookie sheet. Bake about 15 minutes (for soft biscotti only bake for 5 minutes), turning once, until crisp and edges are light brown. Immediately remove from cookie sheet. Cool on wire rack.
Makes about 2 ½ dozen cookies.
For Chocolate-drizzled Mocha Biscotti:
Heat 3 oz. semisweet chocolate or white chocolate baking bar and ½ tsp. shortening in 1-quart saucepan over low heat, stirring occasionally, until melted and smooth. Place cooled biscotti, cut sides up, on waxed paper. Drizzle chocolate over one side of each biscotti. Let stand until chocolate is set.
Nutritional Information Per Serving
1 cookie
Calories: 85
Protein: 1 g
Carbohydrate: 13 g
Fat: 3 g
Cholesterol: 10 mg
Sodium: 65 mg