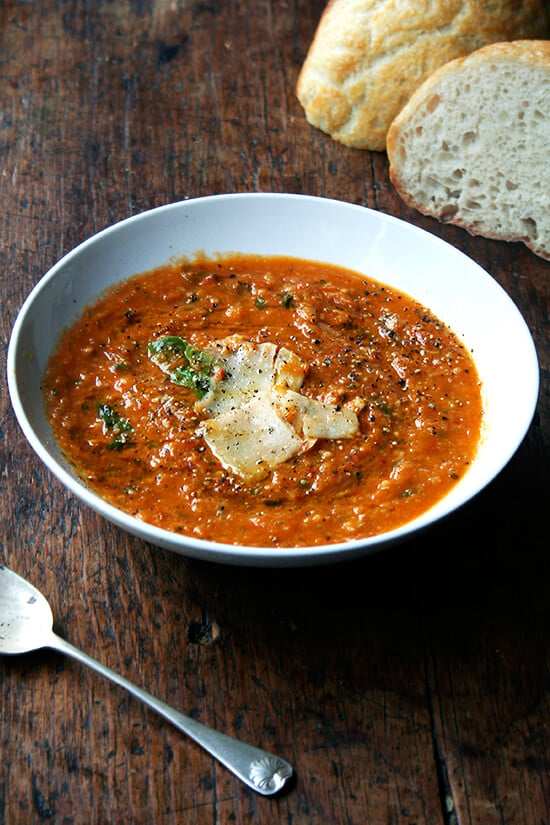 Ingredients
· 2 containers of grape tomatoes
· 1 onion, peeled and chopped into small chunks
· 1 shallot, peeled and chopped into big chunks
· 1 head garlic, cloves separated and unpeeled, lightly smashed
· 1 bunch carrot, unpeeled, roughly chopped
· 3 tablespoons olive oil
· 1 teaspoon kosher salt – to taste
· fresh cracked pepper
· 2 ½ cups water
· ½ cup Tawny Port or Sherry
· 1 bunch (1 oz) fresh basil
· a handful of baby spinach, chopped
· ¼ to ½ tsp. crushed red pepper flakes (to taste)
· Shaved Stella Mediterranean Parmesan
· olive oil for drizzling, optional
Directions
1. Preheat the oven to 300ºF. Line a rimmed sheet tray with all of the vegetables. Drizzle olive oil over top. Season with 1 teaspoon kosher salt and pepper to taste. Use tongs to turn vegetables over to fully coat. Roast for about 2.5 hours, but start checking after 2 hours. The vegetables should be soft and slightly caramelized.
2. When the vegetables are done, place them in a pot with the water and wine. Bring to a simmer. Note: It's best to bring this soup to a simmer slowly.
3. Season with a pinch of salt and crushed red pepper flakes. Add the bunch of basil and spinach. Using an immersion blender or food processor or traditional blender, puree the soup roughly. The soup should be slightly chunky. Taste and add more salt if necessary. Thin with more water until soup reaches desired consistency.
4. Serve with a drizzle of olive oil and shavings of Stella Parmesan.