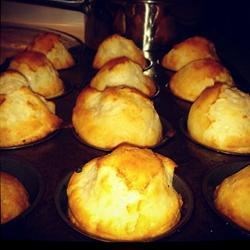 This is the best one I've tried so far to use WITH beef drippings from our accompanying standing rib roast.  (I still love Martha Stewart Living's criminally easy "Perfect Popovers" just for the popovers.)  This recipe, however, came from allrecipes.com.  
Want a standing rib roast recipe to go with it?  Why, funny you should ask.
Note:  The perfect accompaniment to any type of roast beef dinner.  These Yorkies stay tall and have a perfect hollow center for lots of yummy gravy.
Note #2: Make sure to read these tips on making sure the popovers rise just the way they should!
Prep time:  15 min
Total time:  50 min
Serves 12
Ingredients
4 eggs
2 cups all-purpose flour
2 cups whole milk (you could use nonfat milk and it will still work, just a little less rich)
Hefty pinch of coarse sea salt
1/4 cup beef drippings (can also use vegetable oil)
Directions
Preheat the oven to 450 degrees F (230 degrees C). 

If your oven runs hot, use 425 or even 400 degrees.

In a large bowl, whisk together the eggs and milk until well blended. Whisk in the flour (with the salt) one cup at a time until frothy and well blended. Set aside. 

Best if set aside for several hours to rest (at least 30 minutes).

Distribute the oil equally among 12 muffin cups, a little over a teaspoon per cup. Place in the oven for 5 to 10 minutes, until smoking. THIS IS IMPORTANT!! Remove from the oven and quickly ladle about 1/4 cup of batter into each cup.
Bake for 30 to 35 minutes in the preheated oven.

If oven runs hot, change to 20 minutes. 

Serve immediately. I turn my oven off and leave the door partially open with the yorkies inside to keep them from deflating while waiting for everyone to ask for seconds.
Nutritional information per serving (1 popover):
160 calories
7.2 g fat
74 mg cholesterol